TEDxProvidence was a fantastic success! With an eye toward the imminent opportunities in the parcels vacated by the I-195 relocation in Providence's Jewelry District, KITE's Christine Malecki West, AIA spoke about how we can appreciate the City's unique sense of place and influence new development with a positive, constructive approach. Entitled "This is the Place", the video presentation will be available shortly on YouTube.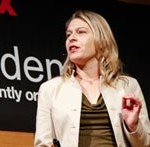 The day-long event on April 15, 2012 at the RISD Museum's Chase Auditorium featured presentations from creative and innovative thinkers from around the region.  A trio of themes  –  Urban Renewal, World Solutions, and Entrepreneurship – structured the discussions.
The presentation also launched a new project and website entitled "195 Hopes", which will invite citizens to share photos and stories of locations that they feel embody Providence's unique sense of place and ultimately grow into a central information clearinghouse on development in the area with assistance from Jef Nickerson, founder of Greater City Providence.
TED is a nonprofit organization devoted to 'Ideas Worth Spreading'. Started as a four-day conference in California 25 years ago, TED has grown to support those world-changing ideas with multiple initiatives. In the spirit of ideas worth spreading, TEDx is a program of local, self-organized events that bring people together to share a TED-like experience. At a TEDx event, TEDTalks video and live speakers combine to spark deep discussion and connection in a small group.
For more information, visit http://www.tedxprovidence.com/
photo by Cat Laine, Painted Foot